Invisalign – Long Island City, NY
Straighter Teeth, Healthier Smiles
In the past, opting for orthodontic treatment meant resorting to traditional braces that included metal brackets and wires. With advancements in technology and orthodontics, a new solution is now available – Invisalign! These clear aligners can gently shift your teeth in the right direction, offering quicker results while staying unseen. Contact us to schedule an appointment and learn more about smile alignment with Invisalign in Long Island City, NY.
Why Choose LIC Dental Associates at Court Square/Queen's Plaza
for Invisalign?
Saran is a Certified Invisalign Provider
Quicker Treatment As Opposed to Traditional Orthodontics
Clear Aligners, No Metal Needed
Invisalign vs. Traditional Braces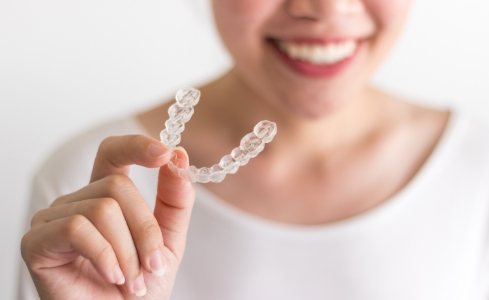 Unlike metal braces that shine a spotlight on the teeth and can often require years of wear, Invisalign uses clear aligners to produce the same beautiful and long-lasting results in a fraction of the time. Invisalign is a state-of-the-art tooth straightening solution that offers patients a way to realign their teeth without compromising their daily appearance.
How Does Invisalign Work?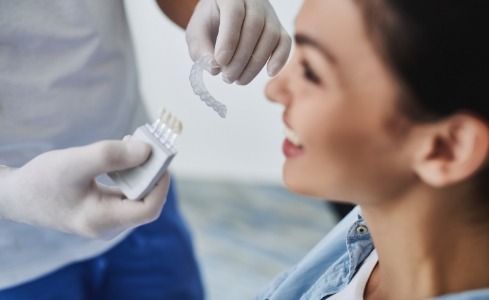 Dr. Saran is a certified Invisalign provider who will evaluate your smile to determine if you're a good candidate for treatment. If so, you'll have customized aligners created after scanning your teeth using the 3M Digital Scanner. To remain on track with your treatment timeline, you'll be expected to wear your aligners 20-22 hours each day for 1-2 weeks at a time. Switching out your aligners every few weeks will keep necessary pressure placed on your teeth, causing them to gently shift toward the desired position. Throughout treatment, you'll be asked to attend regular follow-up appointments with Dr. Saran, ensuring your teeth are moving at the appropriate pace.