Dental Implants – Long Island City, NY
Give Your Smile a Second Chance
While traditional dentures and dental bridges can restore the look of your smile and offer some degree of functionality, dental implants are the only permanent prosthetics designed to restore your teeth from the root to the crown. Our in-house periodontist and implantologist, Dr. Bizzell, can place and restore your missing teeth without referring you out to another local specialist. Contact us today to find out what dental implants from our Long Island City, NY dentist could do for you.
Why Choose LIC Dental Associates at Court Square/Queen's Plaza
for Dental Implants?
Start-to-Finish Dental Implant Placement and Restoration
Diplomate of the American Board of Periodontology on Staff
CT/Cone Beam Scanner Used for Precise Implant Treatment Planning
What are Dental Implants?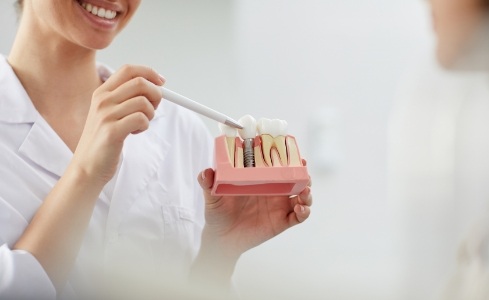 Dental implants are titanium posts that mimic natural tooth roots. Surgically placed into the patient's jawbone, they fuse with the bone to create a firm foundation for the new teeth. The implants are combined with a customized dental crown, bridge, or denture that is secured to the top to offer optimal functionality, greater jawbone stimulation, and enhanced aesthetics.
The 4 Step Dental Implant Process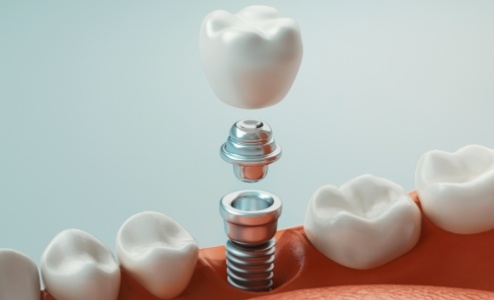 Initial Dental Implant Consultation – You will meet with a member of our team to see whether or not dental implants would be right for you.
Dental Implant Surgery – Because we place our own dental implants in-house, you can stay in one location and receive care from the same trusted team.
Healing Period – After your implant surgery, you'll return home to spend 3-6 months recovering and allowing your implants to fuse with your jawbone.
Delivery of Dental Implant Restoration(s) – The final step is attaching your new teeth to your implants.
Benefits of Dental Implants
Unlike dentures and dental bridges, dental implants stand apart, offering patients a permanent solution to tooth loss. They are much more stable compared to traditional prosthetics, and they have been shown to last for over 30 years as well (regular dentures and bridges last about 5 years on average). Plus, maintenance is easy, as all a patient has to do is brush and floss just like with their natural teeth.
Who Dental Implants Can Help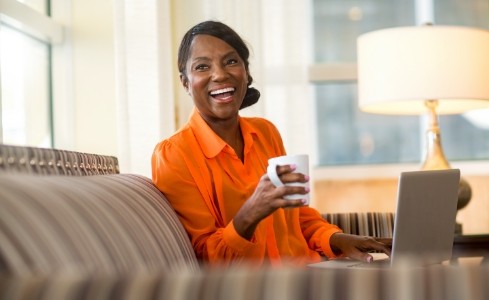 Most adults with tooth loss are likely good candidates for dental implants. Although not everyone can immediately undergo implant surgery, preliminary treatments like bone grafting, periodontal therapy, and tooth extraction make it possible to ensure their successful placement and restoration in the future. When meeting with our dental team, you can expect us to offer a proposed plan that will put you one step closer to a healthier, longer-lasting smile.
Missing One Tooth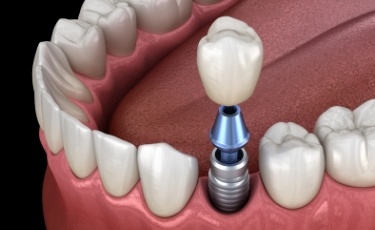 Combining a titanium post with a metal abutment and customized dental crown, you can regain full function and an improved appearance. Unlike a typical bridge, a dental implant crown doesn't require the surrounding teeth to be shaved down.
Missing Multiple Teeth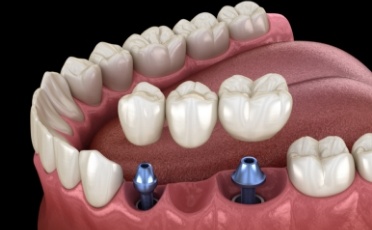 Multiple missing teeth can be easily replaced using two dental implant posts and a customized dental bridge. Instead of relying on the nearby teeth to serve as anchors, your new restoration will be secured to dental implant posts that are surgically placed into your jawbone.
Missing All of Your Teeth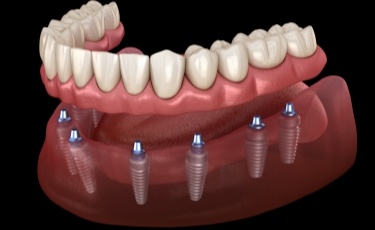 Instead of relying on natural suction, a full denture can rest on 4-6 dental implants placed along the jawbone. Not only does this offer continuous stimulation to the bone to prevent facial collapse, but you'll also enjoy greater bite strength while eating your favorite foods.
Understanding the Cost of Dental Implants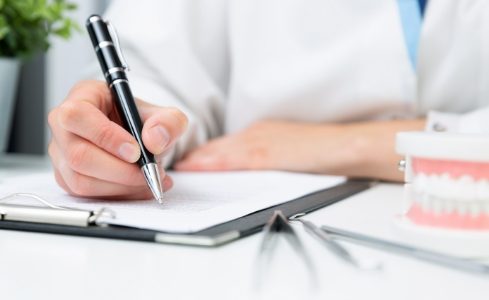 The cost of dental implants is different for everyone. From the number of dental implants required to the type of restoration needed, the materials used, and the brand of implants, these factors and others will influence the cost estimate that will be discussed during your initial consultation. Our team will work with your available insurance benefits and help you remain within your budget while receiving a new and improved smile.